Quinoa Coated Chicken Nuggets

SERVES 4
Ingredients
1 1/2 cup – Quinoa, cooked
1 pound – chicken breast
1 – cooking spray
1/4 cup – flour, all-purpose
1/2 teaspoon – salt
1/2 teaspoon – garlic powder
1/8 teaspoon – black pepper, ground
1 large – egg
1 tablespoon – water
2 cup – cauliflower, florets
2 cup flowerets – broccoli
4 medium – kiwi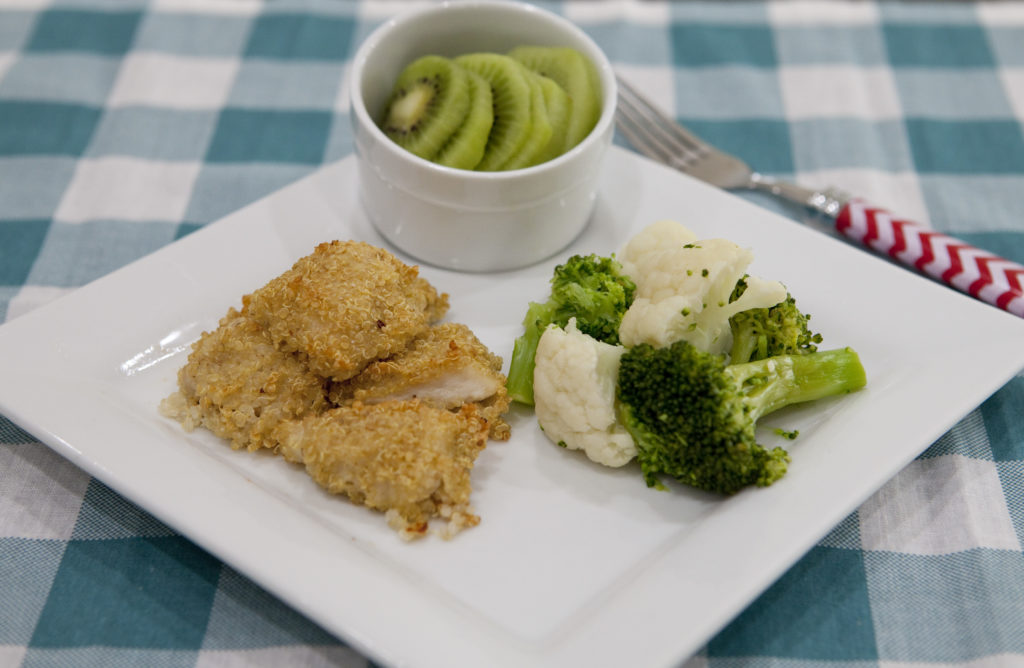 Directions
Cook quinoa according to package directions so that you have at least 1 1/2 cups cooked quinoa. Salt and pepper to taste.
Cut chicken into flat 2-inch pieces (nugget sized). Cover a baking sheet with parchment paper and spray with cooking spray. Preheat oven to 350* F.
In a small bowl, combine flour, salt, garlic powder, and pepper. In another small bowl, whisk egg and water.
Working in small batches, coat pieces of chicken with flour mixture. Next, dip in egg mixture to coat completely and let excess egg drip off. Finally, drop into quinoa and lightly press to coat.
Place quinoa-coated chicken onto baking sheet. Spray with a little cooking spray to make them extra crispy. Place in the oven for 20 minutes, until outsides are slightly browned and chicken is cooked through.
Once the chicken has been placed in the oven, cut cauliflower and broccoli into small florets (if not purchased that way). Place an inch of water into the bottom of a large pot and add the veggies. Cover and bring to a boil. Cook for 2-3 minutes, stirring half-way through. This will steam the veggies but they may be cooked for a while longer if needed.
Serve chicken and veggies with kiwi slices.
FIND MORE RECIPES AT SUPERHEALTHYKIDS.COM